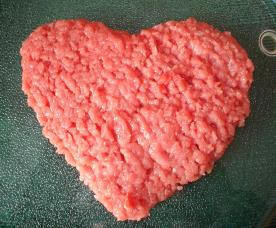 About Our Beef
Our beef are pasture fed when they are very young (for about 12 to 14 months). Once moved to our finishing barn, they continue to be raised with no chemicals, hormones, or preservatives. We can guarantee this because we personally feed the animals each day. Our beef are fed corn silage, shelled corn, soybean meal and molasses with mined minerals (for 4 to 6 months). We do not use antibiotics. On a rare occasion, if an animal is ill, we will administer an antibiotic. However, the animal is never processed until its' system is clear. Once again, this situation is rare. We pride ourselves on keeping our animals healthy as they are our livelihood. In addition, hanging in the cooler for approximately twenty-one days naturally dry-ages and tenderizes our beef. Please do not hesitate to write or call us any time in regards to our products. Thank you for your interest.
Our Smoked Products
A separate yet growing phase of our small business is the production of a delectable variety of smoked items. We purchase top quality meats to meet the demand for these convenience foods. We do not consider our seasoned and/or smoked products "Natural." We've been told that our hot dogs are plump, meaty, and delicious! We make six different kinds including Beef, Beef and Pork, White Hots, White Hots with Cheese, Beef and Pork with Cheese, and Cheese and Jalapeno. They are not to be missed! Additional "easy meals" are Smoked Kielbasa, Sweet Smoked Sausage, Zesty Italian-Style Smoked Sausage, and Bologna. These are heat and eat favorites that take no time at all to prepare. For the snackers in the crowd, our Garlic Ring Bologna, Summer Sausage, and Cracker Bologna are a must-try!!!! Just cut small slices of these items to top your favorite cracker and you're ready to enjoy.
About Our Pork
We purchase young feeder pigs from a local farm. They then take up residence in our state of the art finishing barn where they are fed a diet of corn, soybean meal, and mined minerals. Emphasis is placed on allowing each animal to mature at its' own rate. No hormones, growth-promoting antibiotics or animal by-products are fed. On a rare occasion, if an animal appears ill, an antibiotic will be administered. However, the animal in never processed until its' system is clear. Once again, this is a rare situation. All stages of growth are closely monitored for health to assure the customer a safe, wholesome product. Please contact us with any further questions.
Our Jerky and Snack Sticks
Another phase of the smoked products division is our comfort foods. As with all of our smoked products, they are made from top quality meats! Our beef jerky comes in five varieties including Hickory Smoked, Hot, Teriyaki, Pepper and Barbecue. Each slice of seasoned slab meat is individually hung on the smokehouse cart, smoked to perfection and vacuum sealed for your convenience. This wonderful treat has evolved from meager beginnings when we weighed out individual quarter pound brown paper bags for our first customers!!! After much trial and error, we've developed a uniquely meaty snack stick that also comes in ten varieties: Regular Smoked, Spicy, Hot, Snackaroni, Teriyaki, Cheddar Cheese, Jalapeno Cheese, Honey BBQ, Hot, and our newest flavors… Raspberry Chipotle and Habanero Mango. These have become a personal favorite of hunters, school kids, travelers, sports fans and more. When you're looking for quality and flavor, look to Wilson Beef Farms.