Snack Stick Fundraising Information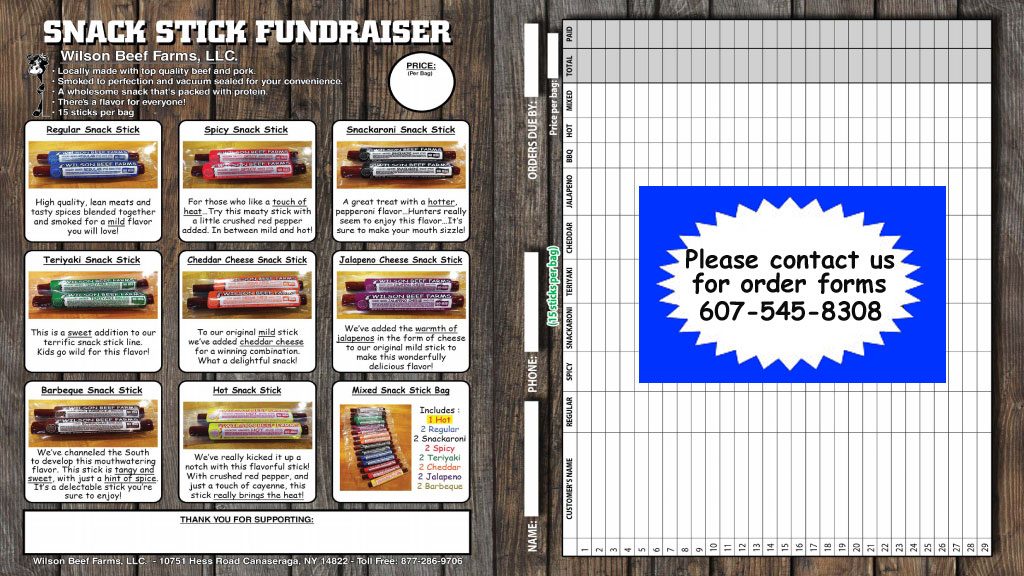 Snack Sticks:
Regular, Snackaroni, Spicy, Teriyaki, Cheddar Cheese, Jalapeno, Cheese, Honey Barbeque, Hot
Mixed Bag – 15:
2ea. Regular, Spicy, Snackaroni, Teriyaki, Cheddar, Jalapeno, BBQ and 1 HOT
Purchase Price:
$11.50 Each Bag of 15 sticks.
Suggested Retail Price:
$16.00 to $20.00 Each Bag
Profit Per Item:
$4.50 to $8.50 Each Bag
Our products are made with only top quality meats.
Our snack sticks are an all beef and pork product – no fillers!
We stand behind our products 100%. If you have any quality problems, we will replace the product or refund your money.
Snack sticks have a six month expiration date.
Sell sticks right out of the bag or take pre-paid orders!
See our snack stick description sheet.
Order sheets will be mailed to you when you schedule your sale with us.
Cash and Check are accepted as payment. (No Credit or Debit Cards)
You're sure to reach your goal using our exciting and delicious fund raising alternative!
Call us with any questions or comments
Prices Subject to Change
Wilson Beef Farms Snack Stick Descriptions
Wilson Beef Farms Snack Stick Fundraising Information
Wilson Beef Farms Nutrition Labels Snack Sticks
Wilson Beef Farms Snack Stick Ingredient Statements
Please contact us for an order form, 607-545-8308